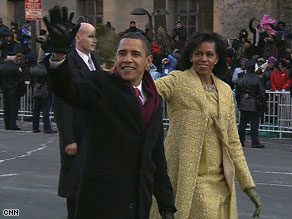 WASHINGTON (CNN) -- President Barack Obama promised to tap the virtues and resiliency of Americans as his administration ushers in an era of accountability and improved dialogue with the world.
He thanked those who sacrificed so much so "a man whose father, less than 60 years ago, might not have been served at a local restaurant can now stand before you to take a most sacred oath."
An estimated 2 million people crowded the National Mall and surrounding area that encompasses the Capitol, White House and Lincoln Memorial. They sang, danced and waved flags as Obama's swearing-in approached.
"This is America happening," said Evadey Minott of Brooklyn, New York. "It was prophesized by King that we would have a day when everyone would come together. This is that day. I am excited. I am joyful. It brings tears to my eyes."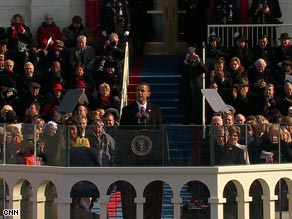 Many in the crowd seemed moved as Aretha Franklin belted out a rousing version of "My Country 'Tis of Thee" before Joe Biden was sworn in as vice president.
Wearing a navy suit and red tie, Obama repeated the oath of office, his hand on the same Bible used in President Abraham Lincoln's first inauguration.
When Obama took the podium, however, the jubilant crowd grew somber and quiet, hanging on his every word. There was only scattered applause -- punctuated by an occasional "That's right" or "Amen."
-Grab From HERE-